Science and Emerging Technologies of Nanocrystals
Nanoscience is an area of research that focuses on the study of materials that have very, very small dimensions. Nanoscience would be boring if those tiny objects behave just like big ones. Luckily they do not. In this talk, I will explain how the nanoworld provides scientists with a rich set of materials useful for studying the new properties of small-sized matter. Emphasis will be given to the sciences and applications of colloidal nanocrystals. Examples include nano-gold, nano-semiconductors and nano-X.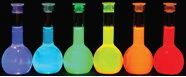 Xingchen Ye, assistant professor of chemistry, takes us through emerging areas of nano technology and explains his work on colloidal nanocrystals.